---
Wearing Pastels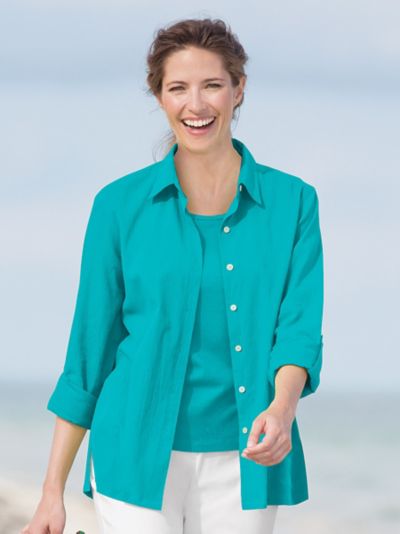 Pastels are a must for your wardrobe. Whether you lean more toward the classics or the latest trends, these soft hues will bring a fresh dose of pizazz to your closet. When conjuring up images of pastel clothing, many of us think of spring and soft eyelet patterns coupled with a floral scarf. While those are steadfast staples, pastels, if done correctly, can be worn all year. Here are some ways to make pastels a silent partner for all of the seasons.

Pair With Black - Pastels, as previously mentioned, may seem obvious for spring, but when paired with black these carefree colors can become decidedly elegant. Pairing pastels with black creates a bold statement and anchors these paler tints to keep them from feeling to contrived or forced, especially when wearing them outside of spring. Coupling pastels with black give these soft shades cleaner silhouettes that allow for more versatility.

In winter and fall think of the pastel piece as your accent piece. For example, select a pastel scarf to wear with a black dress or pair a pastel turtleneck with a black blazer. Don't get discouraged, casual jackets for women come in a variety of styles and sizes, perfect for whatever mood or style you want exemplify.

For spring and summer, reverse that mentality and use black as an accent piece. If black feels too harsh in the warmer months, lighten the look with bright neutral accessories like nude shoes or monochromatic jewelry. The opposite is true for the colder months. Anchor pastel outfits with black accessories.

Accessorize - Perhaps you don't want to totally commit to wearing pastels, even in the high tide pastel season of spring. That is okay because you can wear pastels without feeling overwhelmed, just start with some soft accessories. For example, add some pastel bracelets to a black dress for an instant splash of color. Or balance out an overwhelming ladylike outfit with edgy accessories like a statement necklace or daring handbag. Whatever your choice, a few pastel baubles can really transform an outfit.

Color Blocking - Color blocking is a great way to dip your toe into the pastel trend pool without going under. This stylish way to wear colors is the perfect way to introduce you to pastels while keeping you sophisticated and classic. Try this trend by taking two pieces in the same color family and pairing darker pastel shirts with lighter pastels on the bottom. Or reverse this trend by pairing bright bottoms with a lighter pastel top.

Keep It Simple - With most clothing trends, the best way to embrace them is to keep your hair and makeup simple. Pastels are incredibly feminine and your makeup and hair should complement your look not overpower it. By keeping your hair and makeup simple you are drawing attention to the overall look rather than competing with it.

With Neutrals - Anchor pastels with a simple neutral. This was touched on earlier, but if you are more drawn to black, white, and navy, consider toning your pastels down with a neutral base. Keep your pastels crisp and clean by pairing them with whites. What pastels don't look great with a white pair of shorts or blazer?

For an edgier look try pairing your pastels with leather pieces or an animal print to tone down the often juvenile nature of these soft shades. Take your pastels to the office by throwing on a neutral blazer over a pastel dress or button-down. Insure that your pastel piece stands out by keeping the rest of your outfit simple. Look for ladies blazers and jackets that are structured, this also insures that your pastel piece is the center of the outfit.
---
Earth Tones
Standout in earthy neutrals, perfect for monochromatic looks or paired with your favorite hues. An earth tone color scheme is made up of browns, tans, warm grays, and greens. These colors are often muted and flat, emulating their natural color derivatives found in moss, dirt, trees, and rocks. Wool blazers for women are a great example of earth tones, as many wools are dyed in earth tones or are left their natural earth tone color. Now that we have nailed down what an earth tone is let's talk about how to wear them.

Choosing the Right Colors - Building a wardrobe around enhancing your natural coloring is one of the best ways to looking radiant every day. You are giving yourself a healthy glow by choosing colors that complement your natural coloring. An easy way to start choosing colors that complement your skin tone is to figure out if your skin has cool or warm undertones.

Start by remove fingernail polish and jewelry and hold your hands and wrist against a plain white sheet of paper. If your skin looks to have a pink or blue tint against the paper, then your skin is cool, if there is an orange or yellow tint, your skin is warm. To further test the undertones of your skin find an ivory piece of paper, or piece of clothing, and compare it to your skin. If the skin clashes with the cream tone then your skin has cool undertones, if it seems to blend then your skin has decidedly warm undertones.

Some fashion trends are in one day and out the next, this is not only true in terms of styles, but colors as well. Often, there is a particular color and variation of a color that is the seasons must have hue. However, many times there is just one go to color of the season and that color won't look good on everyone. You can support these colors of the moment with your go to earth tone staples. Brown jackets look great when cinched with a belt in the latest color trend, or accented with a handbag. Green earth tones can be used as an accent color to an outfit as well, especially with other earth tones.

Shades of Gray - Not all grays are earth tones, only the warm putty colored hues are. But that doesn't limit their wide range of functionality. Don't think of all grays being alike, think of all earth tones as being alike. For example your gray and tan jackets can be accented with a gray scarf or handbag. Or try pairing your gray pants, jackets, and sweaters with pastels or jewel tones to give your wardrobe staples a refresh. Grays also look great with neutrals. Try this trend by accenting your grays with a simple neutral riding boot or statement necklace.

Monochromatic - A monochromatic color scheme might seem like a fashion faux pas, but it is actually a trend that has maintained popularity over the past few years. Don't confuse this with wearing just one solid color. A monochromatic color scheme is all one color but varies in shade, tone, or tint. For example, all green attire could be made up of a forest green skirt, an olive green shirt and a hunter green scarf or necklace.

Using patterned and textured pieces also helps to create some contrast to your outfit. Casual blazers for women come in a variety of patterns and textures, but don't stop there, try a patterned scarf or textured shoes. To polish off your monochromatic look and to keep it simple, opt for a nude or neutral shoe and keep your hair and jewelry modest.

Enhance your natural beauty by learning how to work with color trends. By building a wardrobe that is in harmony with your skin tone you can stay in style without sacrificing your unique gorgeousness.

The number one rule, be you! When trying new trends, it is common to feel a bit skeptical of your new look but if you like it, wear it. If you find that a new trend just doesn't translate to your style, ditch it. The most important rule of fashion is that you are comfortable in your outfit, because when it comes down to it your personal style is just an extension of your shining personality.