What is Velour?
Velour is one of the softest materials on the market. So soft, it's almost impossible not to touch it when you see it. It's no surprise that velour feels very similar to its more expensive cousin, velvet. Like velvet, velour is made by a special weaving process that cuts looped threads to form a texture known as "pile." Velours is actually the French word for velvet. However, unlike true velvet, velour is usually made with cotton or cotton blends instead of silk.

Velour was used for draperies and upholstery long before it became popular as a fabric for clothing. In the 1960s and 70s, velour practically became the uniform of a generation. Wearing the soft, colorful and comfortable clothing made from velour was a form of rebellion against the fashion and morality constrictions of the time. Men and women both embraced velour so readily that it eventually made its way into mainstream fashion. The velour jogging suit became a wardrobe staple and even your grandmother probably owned a pair of velour pajamas.
Velour Today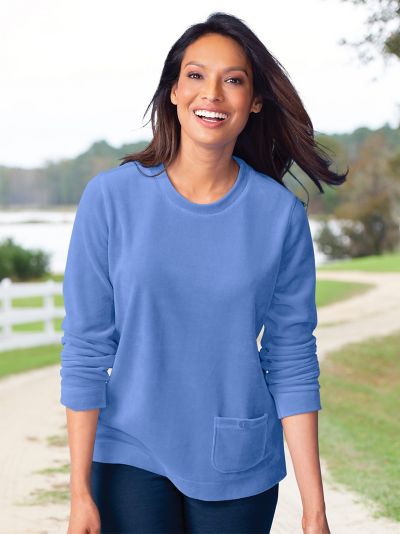 Velour may have gone out of favor with trend setters in the 1980's, but today it's back, and better than ever. The luxurious feel and ultimate comfort of velour can't be denied. Velour jackets, pants, robes, shirts and even velour slippers are once again on everyone's casual-wear wish list.

Modern velour, like the Velour Crewneck Pullover is made from softer, higher quality cotton than velour clothing of the past. The modern, flattering cut of this velour sweater is in keeping with velour fashions today. Small details like the princess seaming in the jacket of the Everyday Elegance Velour Set provide a better fit without sacrificing any of the comfort this textile is known for.

When complete pampering is the goal, loungewear like this Velour Robe and a pair of Velour Ballerina Slippers will keep you warm, cozy and stylish.

Today, most clothing made from velour is machine washable in cold water. Air drying will help keep the nap looking as good as it feels. Velour pants, jackets and sweaters should be laid flat for drying.
Buying Velour
All velour clothing items should fit comfortably. Velour pants typically have an elastic or gored waistband while velour robes and sweaters are best when slightly loose, leaving room for pajamas and casual shirts underneath.

Velour textiles are typically solid in color, but the texture and rich saturation of hues possible with velour more than makes up for any lack of pattern. Look for velour clothing with drawstrings, seaming, buttons and patch pockets if you prefer clothing with interesting details.

Find all our velour women's clothing here!